Hallelujah!

Welcome to the Riverside Chapel homepage!
What do we need the most in this present age?
Isn't it a navigation system for our lives?
Where am I now, and where am I going? Where is my destination?
How can I surely get there? And what do I need to do to make it a fun
and hope-filled drive?
The eternal bestseller, the Bible, can tell you!
We are an easy to understand, fun and cheerful church.
We are also an international church
where people from many different countries attend!
Won't you come and join us on this journey?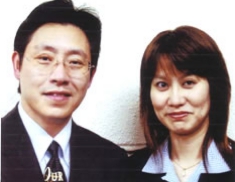 Senior Pastor 
Rev. Hiromasa Amano
Mrs.Yurika

Missionary
(Pastor)

BB Adodo & Gladys

Overseas, English,Asakusa
From Ghana

1.CHRIST IS THE SAME BIBLE SCHOOL
(INSTITUTE OF MINISTERIAL TRAINING)
2.RHEMA BIBLE SCHOOL

Missionary
(Pastor)

Kitaoka Ricardo

Domestic and overseas, Portuguese
(also has his own ministry)


From San Paolo, Brazil
A passionate evangelist sent
from a brother church in Koriyama

Missionary
(Pastor)

Benny Cerilo Cabrera

Over 30 branch churches in the Philippines

From Manila, Philippines
A vessel of God who plants churches one
after another on the islands
Missionary
(pastor)

Ibes Palileo & Germilina

Domestic Philippine church
(Philippine AG)

Asian Pacific Theological Seminary
M.Div
Asian Center for Missions

Teacher

Reynardo & Marie Torres

Yashio Chapel

Adamson University

Pastor

Joel & Vangie Hasegawa

Yatsuka Chapel
Pastor

Delma Hashizume

Hachioji Chapel

Affiliated
missionary
(Pastor)

Victor & Keiko Koduah Nyanor

Cambodia

Global University

Teacher

Toshiyuki Konya

Portuguese

Pastor


Jean Kumata

Satte Chapel
(Taking administrative leave)


Pastor

Hitoho Maki

Holy Spirit Bible School


Mrs. Yukie Maki

(Central Bible College)
Kibi Church plant

Riverside Church Okayama
English, Tagalog
(Matsubara) Ministers



Myrna Yamashita
English





Mary Jane Suzuki
(English)










Tomiyo Ito
(Asakusa)



Larin Floresta
(Matsubara)



Dolores Kamata
(Matsubara)



Rafaela Sugiyama
(Matsubara)



Daisy Sudo
(Matsubara)



Elizabeth Valenzuela
(Matsubara)

Ministers and Staff


Pastor

Hitoho Maki

Holy Spirit Bible School


Riverside Church Okayama Church




Evangelist
RIS teacher

Miwa Sato


International Gospel Seminary
Evangelism
(Matsubara & Asakusa)




Teacher
RIS teacher

Yuko Murata


Holy Spirit Bible School
Matsubara & Hachioji & Asakusa

Honorary
Teacher

Kazuo Suzuki

(Bible Reading Club)


Teacher

Jin Sugita


JTJ Theological Seminary
Kids ministry
(Matsubara & Soka & Aoyama)


Assistant
Teacher

Fusao
Kuribayashi

(HSTS)


Assistant
Teacher

Seiichiro Ishikawa

(HSTS)
General Affairs
Staff
RIS teacher
Nobuhito Kawasaki

(National Nara Industrial
High Vocational School)
(HSBS)


RIS teacher
Administration
Michino Kawasaki

(Daito Cultural University
BA International Relations)

RIS Principal・Kids Brown reception
Yuki Saito

(Dokkyo University BA English)

Admin.
Takayuki Ishida

(RIS)
(Institute of Sound Arts)
(Central Bible College)


RIS teacher・Kids Brown Admin.
Kayko Ishida

International school teacher
(Trinity Western University BA Music)


Chief Admin.

Noriko Suzuki
Tokyo Blessing Church


Associate Pastor

Yoshiaru Makino

(Served for 10 years at Canadian Revival Center)

Assosiate Pastoral Teacher
Rena Makino

(RIS)
(HSTS)











Shelly Carl

Tokyo Blessing Church
Garden Hills Church





Semi Staff

Noriko Nabe


(Revival Biblical Seminary)





Semi Staff

Akiko Wakabayashi

(Central Bible College)
Layman minister
Lay evangelist
Sachiko Iijima
(HSTS)

Layman minister
Lay evangelist
Takao Otaki
(HSTS)

Layman minister
Lay evangelist
Naoko Kobayashi
(HSTS)

Layman minister
Lay evangelist
Yoshiko Saito
(HSTS)
Layman minister
Lay evangelist
Kimie Shiga
(HSTS)

Layman minister
Lay evangelist
Junichiro Takahashi
(HSTS)

Layman minister
Lay evangelist
Mitsuko Yamauchi
(HSTS)


Other members have also completed HSTS